Información para estudiantes extranjeros interesados en venir a la Facultad de Arquitectura y Urbanismo de la Universidad de Chile por el Programa de Intercambios (convenio específico).
INFORMATION FOR INCOMING STUDENTS
University: Universidad de Chile
Faculty: Facultad de Arquitectura y Urbanismo (FAU)
International Relations Office at the Faculty: Dirección Académica y de Relaciones Internacionales (DARI)
Academic Affairs & International Relations Director: Daniel Opazo
Address: Portugal N° 84. Santiago de Chile
Phone: +562 2978 3124
Email: movilidadestudiantil@uchilefau.cl
Academic Year:
1st semester March to July
2nd semester July to December
Courses: FAU Catalogue
Language of Instruction: Spanish
Online Application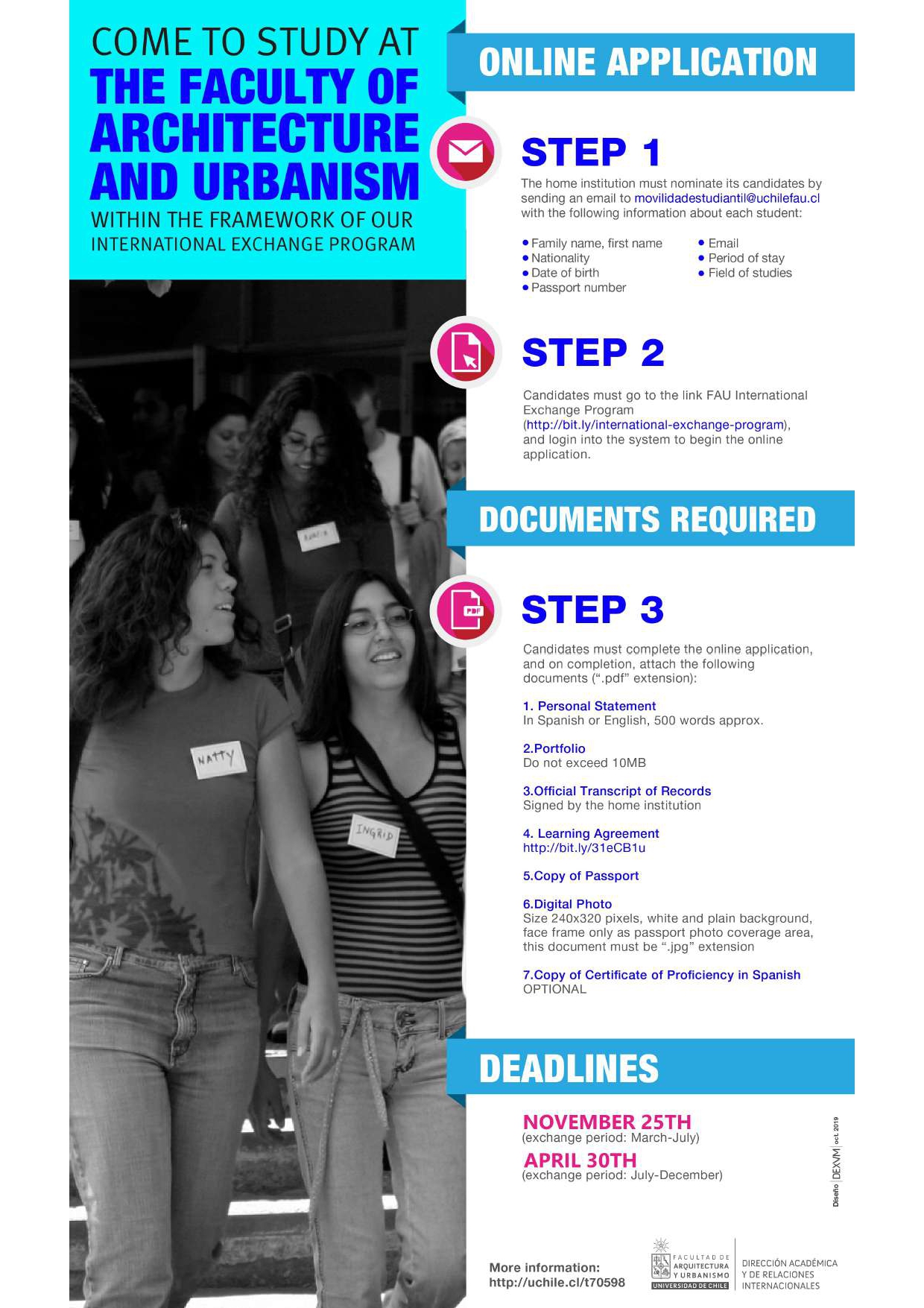 Step 1. The home institution must nominate its candidates in the following link: https://forms.gle/a4NtriN4jEdshWYB8
This is the information that will be asked about each student:
Last Name, First Name
Date of Birth
Nationality
Passport Number
Email
Name of the Bachelor or Master Programme in which the Student is Enrolled in the Home Institution
Current Level of Study
Period of Stay
Step 2. Candidates can begin the online application in the following link: https://forms.gle/793ToL9SZ7SSaNak9
Documents Required:
Step 3. Candidates must complete the online application, and attach the following documents (".pdf" format):
Copy of Passport, .PDF format.
Official Transcript of Records, signed by the home institution, .PDF format.
Digital Photo, size 240x320 pixels, white and plain background, face frame only as passport photo coverage area, .JPG format, minimum 1,000KB.
Copy of Certificate of Proficiency in Spanish, .PDF format (OPTIONAL).
Deadlines:
November 25th (exchange period: March-July)
April 30th (exchange period: July-December)